Hoe wordt gemeten?
De lichaamssignalen worden gemeten met sensoren, die zijn aangebracht op het lichaam en aangesloten op de biofeedback-apparatuur en laptop. De sensoren worden meestal aangebracht op de vingers van één hand (de sensor van de hartslag, handtemperatuur en huidgeleiding) en het hoofd– of schoudergebied (spierspannings-elektroden). De ademhaling wordt geregistreerd door middel van een rekbare band om het middel. Hierbij kan de kleding gewoon aan worden gehouden. De metingen zijn pijnloos en geven geen spanning af.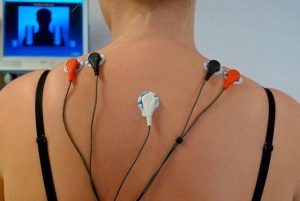 Hoe kan ik me voorbereiden op de meting?
-één uur voor aanvang geen koffie meer drinken is wenselijk, aangezien dit de meting (met name de hartslag) kan beïnvloeden.
-makkelijke kleding aantrekken. Het hoeft geen sportkleding te zijn. Een T-shirt met een ruime hals of een overhemd/blouse, i.v.m. het bevestigen van sensoren is prima.
De hele meting is zittend op een relaxstoel.